It is no news that most of the very good gaming chairs on the market are expensive. But do you really need to spend much just to have a very good gaming chair to enhance your play?
While premium quality can never be separated from the high price tag, many gaming chair reviewers have considered the ZENEZ gaming chair as one of the best affordable chairs that do not sacrifice other features like ergonomics support and typical design for a low price.
In this post, I am going to zero into the ZENEZ gaming chair and why it is loved by many. We will also look into the flaws, strengths, and frequently asked questions of the gaming chair.
If you plan to buy a gaming chair, and you have chosen ZENEZ gaming chair as your final pick, I advise you to read to the very end of this post as I will be giving a detailed review of the ZENEZ gaming chair having done thorough research on users experience with the chair as well as its design and function.
Detailed review of ZENEZ gaming chair
Before we dive fully into the review, I will lay the foundation of this post by listing out the specifications, pros, cons, and features of the ZENEZ gaming chair.
You can check the ZENEZ gaming chair on Amazon HERE
Specification of the ZENEZ gaming chair
Proudly from the ZENEZ Brand
Item Dimensions: 35.47 x 27.59 x 14.38 inches (L x W x H)
Designed with PU Leather, Alloy frame Materials
Colors Red and Black
Suggested Maximum Weight is 300 Pounds
Load capacity: 136,1 kg.
Adjustable seat height: 40,9-50,8cm.
Pros and Cons of the ZENEZ gaming chair
PROS
The gaming chair features a heavy-duty base
Equipped with an alloy frame for heavy capacity
Designed with Top quality wheel castors that is safe for almost all types of floors
Very flexible adjustment for the armrest to fit your comfy
It has 1-year parts quality warranty
CONS
The armrest does not feature any padding
Not equipped with vert sufficient seat cushion especially for a heavyweight
Features of the ZENEZ gaming chair
THE DESIGN
First and foremost, this is a gaming chair. It has been built and designed for gamers. In other words, most of its features, design and materials will be constructed towards satisfying gamers while sitting down to play their favorite video games.
When talking about the design of the ZENEZ gaming chair, we can not help but mention the sense of charm and elegance that the available color brings, even at the first glance.
The choice of red or black color makes it matching for any typical game setting or decor.
The chair is also designed with a lumbar pillow and a headrest pillow. These two parts can be adjusted in height and you also have the choice to remove them if it is not useful.
This particular design, obviously, brings in more comfort and a better sitting position. This is perhaps, one of the major reasons why people still love the chairs. Even though the chair is offered at a cheap rate, it still offers very solid support.
In addition, the ZENEZ chair is wrapped with high-density 3.15″ foam which is manually sewed with high-quality PU leather. This means it is not only comfortable to sit on but also very easy to clean in case something pours on it.
As you have seen in the specification shared above about the chair, the ZENEZ gaming chair is able to hold a weight capacity of as much as 330 pounds.
This is simply because it has been designed with a heavy-duty base plus top-quality rolling castors. Let me chip in here that the castors allow you to move anywhere freely in the space.
Unlike other fewer quality ones, you don't have to be bothered about damaging your floors while moving with the smooth silent castors.
Above all, more accolades should be given to the flexible reclining design. It is easy to find a very comfortable position to suit your preference when sitting on the gaming chair because it is 90 to 170 degrees reclining.
On the design review, I must not fail to mention the 4D armrests which are super flexible in terms of adjustment. They can be adjusted in 4 directions of up, down, back, and forth. You can even rotate the armrest to the sides!
As mentioned earlier, the gaming chair is equipped with an adjustable backrest that can be tilted 90 degrees, this gives support to the spine even when you sit for long hours.
Assembly mechanism of the ZENEZ gaming chair
There is nothing much of a big deal to assemble the ZENEZ gaming chair from the form in which it was packaged and delivered. However, the chair seat and the backrest are packages in two different sets.
So, since these two separate packages sets are somewhat big, it would be quicker and easier to get someone who can help you in the assembling process.
Again, I must point out that one of the flaws of the ZENEZ gaming chair, especially when it comes down to assembling it is that some of the armrests and the backrest screws are challenging to screw in.
However, this difficulty is compensated with the solid support that the armrest and backrest offer after you have successfully managed to screw in well.
All in all, there is nothing too difficult in assembling the chair. If you are familiar with assembling gaming chairs, this is just one of them that requires assembling. Nothing difficult at all.
The convenience and use of the ZENEZ gaming chair
One of the integral parts of a gaming chair you should learn about before buying it is the use and convenience. Luckily, this segment will be reviewing the level of convenience and overall use of the ZENEZ gaming chair.
I don't know if you will agree with me, but I think the hugest problem you can ever find as long as gaming chairs are concerned is that they tend to deteriorate when you use them often.
So whenever you see a gaming chair that scores a pass mark in quality of the seat and the ease of use even for prolonged periods of time, ensure you make a purchase.
And for the record, ZENEZ gaming chair is a very good chair that you can sit for 8 hours every day and it will maintain its durability and function.
Most users, however, testify to how  "rigid" the seat was especially when it was first bought. This is simply because it is ergonomically designed.
Think about it too, the gaming chair is equipped with a lumbar pillow. This means that the presence of the lumbar pillow will have a way of positioning you when you sit on the chair for the first time.
It may seem different because it is not your regular desk chair, but over time, you will begin to appreciate the presence of such an ergonomic design.
I also like the way the backseat and lumbar support have been designed to be soft but not too soft. It helps you when playing a game to maintain a sitting position in the most correct and comfortable way possible.
This is something invaluable for long hours of playing sessions.
Before we get sugarcoated and overwhelmed by the goodies of the ZENEZ gaming chair, bear in mind that one of the hugest flaws of the gaming chair is that the armrests are not padded.
I still wonder why the manufacturers did not put this into consideration.
Of course, the armrest can be adjusted in height and can also rotate on their own axis, but they are not padded.
Relevant uses of the ZENEZ gaming chair
FOR GAMING
I started the review of the ZENEZ gaming chair by stating clearly that it is a chair that has been built with video game players in mind.
One of its relevant and most significant uses as a computer gaming chair is to provide a comfortable seating solution for adults while they enjoy their games.
The chair features quite rolling with 360 Degree Swivel. The wheels avoid scratching on the floorboard and freely move in your space.
Zenez gaming chair will make you not just a comfortable player but also a winner
FOR HOME
When you activate your working mode, reading mode, relax mode, or even lying mode, ZENEZ gaming chair is always a very good choice as a seating solution. Why, you ask?
The Adjustability range of this chair is from 90° to 170°. In addition, the seat height can be adjusted from 17.71" to 21.65".
In other words, the adjustment flexibility allows the gaming chair to be very suitable for working, gaming, reading, relaxing lying there, and other related stuff you need a chair for at home.
It gives its users the opportunity to choose their preferred angle and height to make oneself more comfortable
FOR OFFICE
Not all office chairs are necessarily fancy in look. But ideal chairs used for office purposes should be built to provide comfort, especially for long hours.
If you are thinking of getting the ZENEZ gaming chair as an office chair, then it is no bad choice because it is a kind of chair that is built such that you are able to sit in all day working without developing any pain.
Again, the chair has a number of adjustments to accommodate different body shapes, back pains, and heights.
FOR LONG SITTING HOURS
What guarantees this ZENEZ gaming chair as one that is ideal for long sitting hours is the sturdy and durable Stainless Steel Base that bears weight up to 300 LBS.
In addition, it is equipped with armrests with adjustable height and a soft PU surface.
It is a chair with a detachable Headrest and Lumbar Support for relaxing your neck, head, and waist when sitting for long hours.
Frequently Asked Questions on Zenez Gaming Chair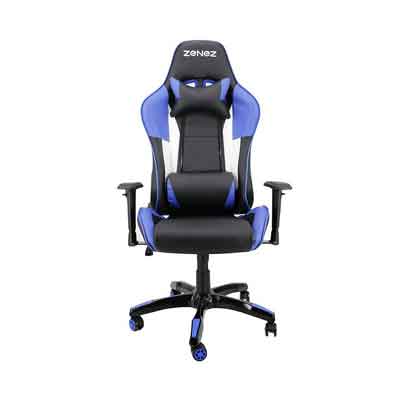 I plan to package an all-in-one review of the ZENEZ gaming chair. So in this section, I will be sharing reviews on some areas of the chair that most buyers are curious to know but not all reviewed will talk about them.
These questions and answer can help you in making the best buying decision
Does the Zenez Gaming Chair beat the competition in its similar price range?
You can take a Zenez gaming chair home from amazon at the price tag of $179.99 as currently sold on amazon.
You can check the ZENEZ gaming chair on Amazon HERE
That is about 150 euros.
When we consider the myriad number of gaming chair options in the market, and how they cost about twice the price of Zenez gaming chair simply because they offer THE SAME features, you will notice that this chair beats the competition to a great extent.
Know that the Zenez gaming chair is not just a chair you use to play your games, it is also very useful for reading, working, and relaxing.
Does the Zenez Gaming Chair make noise?
The ZENEZ gaming chair is equipped with smooth casters that reduce friction with the ground which means that it avoids any damage to the floor.  What will cause a gaming chair to make noise is the friction of the wheels with the floor.
But as with the case of the ZENEZ gaming chair, the wheels are made of plastic and nylon and wrapped in PU leather.
Is the price okay for the kind of chair?
Absolutely. In fact, most gaming chair reviews also say that the chair is a good value for the money. This, I agree with!
In terms of assembly?
Like I have explained earlier, it requires you to put everything together yourself. But the process is not difficult.
In terms of instructions of use, is the Zenez Gaming Chair easily understandable?
If you try to assemble it all by yourself, it may take you an hour or so. Even the instruction specifies that it is better to have someone to help with some specific steps.
It won't be too difficult if you do it yourself, anyway.
Conclusion Zenez Gaming Chair Review
All in all, the ZENEZ gaming chair is a very decent pick, especially when you are serious about getting a gaming chair that is great for comfort and stability.
Also, it is one of the gaming chairs I can always recommend for big guys. And you know how difficult it can be for a big guy to find such a solid gaming chair, especially one that is not up to 100 euros.
While the Zenez chair is built for general gamers, it remains a very good choice for the office workplace.
If you are on a budget and you still one a  great gaming chair, ZENEZ is your answer.