Are you planning to buy a bean bag? Have you heard quite a lot of negative stories from people about bean bags? Do friends especially tell you bean bags are tacky, dowdy, shabby, and gives the home a poor taste?
Are bean bags really tacky? No, they aren't. Bean bags are not tacky. Bean bags are one of the most comfortable furniture for relaxation and stress relief in the home and even in the office. Apart from providing a lot of comforts, they also fit the mood of your home and radiate a lot of beauty when they match your home color.

Research shows that majority of people who have used bean bags really love using them and can't see themselves using anything else.
And that is not all. Bean bags also come with a lot of health benefits.
While some pregnant women might have a problem or two about it, bean bags are also really good for spine support. Some bean bags can even adjust to your body posture and make you feel comfortable when you lie on it.
There are also bean bags that are specially made for the comforts of pregnant women.
People who suffer from backaches and neck pain as a result of bad body postures can also benefit from bean bags as it helps put the body in a right and comfortable position that eases stress and relieves pain.
Children who are autistic can also derive great pleasure and relief from bean bags, bean bags allows them to relax and feel comfortable in their environment. It gives them a safe feeling and allows them to enjoy a sense of peace and relaxation.
Bean bags also serve as furniture for home décor. It adds beauty to the home.
Reasons why users think Bean Bags are tacky
Some people actually think bean bags are tacky because unlike other pieces of furniture in the home or office, bean bags don't last for years and when in use for a long time, they might start to flatten and eventually need replacing.
Pregnant women might also have a problem or two with bean bags. Some say it is difficult to get up from, while old people also have the same problem because bean bags don't come with an armrest or a holder that could assist them in lifting their weight like regular chairs.
Nursing mothers and parents of young children might also have something to say about bean bags being dangerous to their children's health.
If bean bags are not carefully secured with strong and durable covers that come with a high-quality zipper and cannot easily tear, the beads/beans inside can be very harmful to the health and they can also be at the risk of suffocation.
Of course, we do not think bean bags are tacky, but we will like to share with you why some users of bean bags might want to have a change of mind and some of the reasons they have.
Though bean bags are very good solutions to backaches, neck and shoulder pains, if you sit on them for a long time, this can result in muscular or cervical pain. They could even make the initial pain you were trying to get rid of worse. A lot of users have several complaints about how they got bean bags because they were trying to get rid of bad pain but eventually got an even worse pain.
Bean bags should not be a substitute for regular chairs because they don't have active back supports. And sitting on them for long periods can result in adverse effects. Users who prefer bean bags to regular chairs and other sitting furniture tend to fall into the category of people suffering from bad postures.
When bean bags are used for a longer period of time, the beads/ beans inside may wear out and you would have to take them out to replace them. And this can be really stressful. It takes a lot of time and it is energy-consuming. Also, if you try adding beads/beans to the bag without removing the flattened beads, the bean bag will become unnecessarily heavy, uncomfortable to rest or lounge on and it will not be as easy to move as before.
Bean bags can serve as a form of furniture decoration in the home, but if the right type of bean bag or color that will fit right into the home, office, or anywhere it is placed in, is not picked, it can make the home or office look tacky and the bean bag out of place.
Some bean bags, vinyl materials especially, can be dangerous to your health. Vinyl chloride is an industrial chemical, which is quite important as it is used in the production of PVC. It is also a widely used chemical. However, exposing Vinyl chloride in the air can be highly dangerous and cancerous to the health and damage important organs in the body. Also, if you are exposed to Vinyl chloride over time, you can develop extreme medical conditions.
Vinyl materials used for bean bags are mixed with other chemicals in order to make it more flexible for use and comfort, and so that the vinyl material will not crack. This makes the chemical composition even more disastrous to the health.
Most of these bean bags come with a warning label such as containing chemicals in the state of California to known to initiate cancer and birth defects.
And over time, users have been advised to steer clear of bean bags that come with such or any warning labels.
They are known to activate cancerous cells in the body and also other cell-damaging illnesses. These types of bean bags are usually cheap.
Some people also say that bean bags damage your back and hence it should not be used. If you're trying to cure a backache or bad posture, getting a cheap bean bag or sitting on a bean bag for a long period of time might be a very bad idea. As it will make the backache even worse than it was. Some research even says 'cheap bean bags, happily damaging your back'.
How to ensure that you buy the right bean bags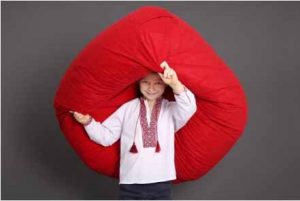 Do not buy cheap bean bags
A lot of people get excited at the thought of having a lot of comfort at a very little price. But in the case of bean bags, this can be very dangerous.
Cheaper bean bags cause a lot of discomforts rather than ease them. Also, materials used in making cheap bean bags are usually cheap and detrimental to your health.
Buy bean bags with durable and long-lasting fillers
Buying the right bead/bean filler makes the bean bag very light and easy to move around. Getting a bean bag with the best filler also determines how comfortable the bean bag will make you feel.
There are also heavier bean bag fillers which are very durable and last so well that they'd never need to be refilled.
Also, buy bean bag fillers that are not dangerous to the health, eco-friendly, children-friendly, inflammable, and are cancer activating free.
Buy bean bags that come in big sizes
Buying smaller sized bean bags can affect your comfort and body posture. If it is big enough, whenever you lie on it, it will easily take the shape of your body and relieve you of the pains of sitting in a bad posture for a long time.
Also, buying bigger sized bean bags also allows you to sleep on it and not only sit. Check out the size and shape of the bean bag and make sure it is comfortable enough for what you will like to use it for; sleeping, sitting, and so on.
Does it come with a warning label?
Earlier we talked about bean bags that come with a warning label. These bean bags can be highly cancerous and damaging to your health as they are made with Vinyl materials and other harmful chemicals. You should avoid getting them.
Get bean bags with two bags
When making decisions on what bean bag to buy, get the ones with two bags, that way the beads/beans inside the bag will not spill out when the outside bag tears. Also, choose an outside bag that can be washed.
Get bean bags with double stitches or durable zippers
Bean bags that come with double stitches makes it hard for the stitches to tear and less stressful. Bean bags with simple stitches tear easily and have to be constantly sewn.
Bean bags with durable zippers are even better, they don't tear easily and when the beads/beans need to be changed or replaced, you can easily unzip the bag, bring them out and replace the beads/ beans without so much stress.
Keep in mind who you're buying it for
Bean bags come in different shapes and sizes, and you should select the right bean bag by first knowing who you will be buying it for and which bean bag will suit them.
Whether it is a bean bag for your kid, an autistic child, yourself, your partner, or an aged parent. Knowing what they would use the bag for like relaxation after a long day at work, playing games, sleeping, or reading can determine what kind of bean bag to choose.
Great bean bags to buy online for your home or office
CordaRoy's Chenille Bean Bag Chair
The CordaRoy's Chenille Bean Bag Chair is a bean bag that can also be converted to a bed. It comes in different colors and also gives you the opportunity to pick any size you want according to your preference.
The fabric cover is soft and washable. It also comes with an extra-long zipper that makes it easy to remove.
It can also serve diverse purposes. From been used for slumber parties, to the kid's game room, for relaxation, and also as a bed for guests.
XRQ Bean Bag Chair
The XRQ bean bag chair is made up of soft chopped memory foams with a comfortable cover that is soft to touch, washable, and is resistant to stains. It also comes with a high-grade durable zipper and double-stitched fabric.
This bean bag also comes in different colors and can be used by elderly ones, pregnant women, and even children.
Fatboy Original Slim n Roll Bean Bag
The Fatboy Original Slim Bean Bag Rocking chair is a multifunctional bean bag rocker that can be used for reading, relaxation, and cuddling.
It can be converted to a stationary chair and comes with a rocker. It has a durable cover that is easy to wash with a protective coating for stain and water resistance.
Comfy Sacks Bean Bag Chair
The Comfy Sacks 6 ft Memory Foam Bean Bag Chair comes in different radiant colors and fabrics, highly durable, and comes with a child safety zipper. It has a soft and washable cover that is easy to remove and a memory foam filler. This bean bag weighs 78 pounds.
Conclusion
Bean bags are comfortable, good for curing a bad posture, and can also be used for relaxation, watching TV, playing games, and even sleeping. Selecting a good color of bean bag for your home or office can also add color and life to the décor.
As you enjoy the great benefits of bean bags, also remember to make the right choices by checking the product details before buying and steering clear of bean bags that come with a warning label.
If you are a nursing mother, pregnant woman, or buying for the elderly. Make sure to select products that are eco-friendly, good for your health, and kid-friendly.
Don't also forget that very cheap bean bags might be harmful to you. Always check for vinyl materials before buying.
It is better to get the best bean bags than endangering one's health.
You should also ensure you don't use bean bags for a longer period of time, even when reading or studying for a long time, sleeping, playing games, or watching TV. This might cause bad posture.
Stand up from time to time, take a walk, sit on regular chairs, stretch your body so as to maintain different postures and prevent back, neck, and shoulder pains.