A lot of people like to use a bean bag because of its coziness and comfortability. Who wouldn't appreciate some comfort, away from the usual mattress we know?
So is it okay to sleep on a bean bag?
Of course, you can sleep on your bean bag. The way bean bags are made, they are not too soft or too hard, they take the weight of the body and make you feel almost weightless.
Yes, this is okay, because bean bags are so relaxing and comfortable, they are great for sleep for both babies and adults alike. It is however important that before you decide on making a bean bag your resting place, you should consider the material the bean bag is made of
What sort of fabric is your bean bag made of? That's naturally a question that follows in the inquiry.
Many more people are replacing their beds with a bean bag. Some lounge on their Bean bags instead of on their couches, they put it out on patios and slouch on it when the weather outside allows it.
And when they need to be washed you can always remove the cover – if the covers are removable – and wash it. Bean bags can be moved around in a way that regular beds can not.
You can move your bean bag from your bedroom to another or from there to the living room, watch your favorite show while lying in it and fall asleep. They give you both flexibility and comfort.
Once again, I reiterate: you can sleep on your bean bags. BUT note that not all bean bags are safe to sleep on.

Type of bean bags safe to sleep on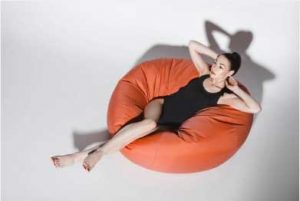 Generally, you can sleep on any bean bag that is not covered in vinyl material, and doesn't contain memory foam blocks.
The following bean bags are ideal for sleeping on:
Cotton
Cottons are a popular material used for bean bags, and if you are considering spending occasional nights sleeping on your bean bag, then cotton is one of the best.
Cotton is natural fiber. There is no fear of chemical hazards or off-gassing, a phenomenon with vinyl fabric. Cotton is safe for babies and adults.
Chose cotton fabrics with right weaves, lining inside and zippers with safety for kids. Keep your cotton fabric bean bag from direct sunlight at all times. If you intend your bag to be slept on regularly, avoid exposure to UV Ray's as this can make the colors fade.
Also keep the bean bag free from bedbugs and mites by making routine checks at least three times a week. And if at anytime you notice insect in the bag, it is best to employ the use of insecticides before it turns into a full blown infestation.
At that point it is possible to lose the beauty and integrity of the fabric.
One other very important factor that makes cotton bean bags ideal for sleeping in is that the fabric breaths because of the weave. This way you are guaranteed a good night sleep.
Faux Suede
Faux Suede is a artificial fabric made from animal-friendly materials – polyester microfiber which is woven into the tough plastic fabric. Faux Suede is more durable than natural occurring suede.
Faux suede copies the qualities of natural suede, the edge it has however is that it is more durable when subjected to the elements that natural suede does.
The best place, says some users of suede bean bags, for this bean bag is in the bedroom. And isn't the best place to sleep also in a comfortable bedroom? Sure. Recommended.
Faux fur
Like animal fur, that's what faux fur means. It is made from a combination of cellulose and several other synthetic materials. Some faux furs feel so real you can hardly tell the difference from a faux fur and the real deal. For many, faux fur is even the real deal.
I once saw one in a friends apartment and couldn't tell the difference too. Which is cool because laying in one sort of made me feel rich…Haha.
Although it is made from synthetic material, it is safe to sleep on. At least bean bag connoisseurs agree.
Velvet
Velvet covered bean bags are also ideal for beds. They may not have the luxuriance of suede and fur, but they sure are a beautiful and if you chose a good quality, you'd enjoy sleeping in them.
They are also good for indoor, they do well on patios too. They are easy to maintain. However I recommend that velvet bean bags should not replace your bed. Use them as sparingly as you would other bean bags.
Yes, they do great on the skin, soft and smooth like cotton, but they require a higher level of care than some fabrics. Avoid moving them around too often to reduce friction to avoid it becoming threadbare and looking chafed.
Silk
We should get an ahem reaction for mentioning this bean bag here. For one thing it is expensive, almost outrageously so. For most people that is. But if you can afford a silk bean bag, you'd be making a really gorgeous investment in making yourself feel good around your bean bag and on it.
A superior quality silk bed is not difficult to maintain. They are not recommended for outdoor however. Just leave it in the bedroom, it's okay if you get one that matches the curtains or other décor of the home.
Silk bean bag gives you matchless comfort.
Polyester
Polyester bean bags are cost effective bags that I believe almost anyone can afford. They are adorable in the bedroom and can be comfortable to sleep on.
Although they are also made from synthetic materials, they do not pose health risks like vinyl fabrics.
They are durable, easy to maintain and are waterproof. Like the other fabrics mentioned earlier, polyester bean bags are smooth on the body, making slumber and relaxing
They can used everywhere in the home; from the bedroom to the backyard or even on the playground. Since we are talking about what to replace your bed with on some nights, all the bean bag fabrics I have mentioned are appropriate.
I'd like to share a little something-something about choosing bean bags for the purpose of sleeping on them. Perhaps this may help you personally. I don't expect that everyone would make the same choices when it comes to bean bags.
Besides the shortcomings of vinyl bean bag fabrics that I have mentioned above, there are other considerations for choosing a bean bag. For example, there are weather considerations. Which is why I didn't recommend fabrics like leather or faux leather.
I do not recommend leather bean bags if you live in the tropics for example. In those places the weather is hot most of the year and if you can't afford cooling for most of the day, it may affect the utility of your leather bean bag.
Leather absorbs heat fast and keeps it. If your entire home does not have cooling, then leather bean bags are not the best for you. Cotton is definitely the best choice for you.
Materials of bean bags you should not sleep in
Vinyl Bean bags
In California, officials requires that all manufacturers distributors who use vinyl bag covers and memory foam blocks to affix what is called a Proposition 65 warning label on all such products being sold in the state.
The reason being that vinyl is said to contain cancer causing substances, so is the memory foam blocks.
BeanBagsRUs recently completed a meta-analytic research project showing that vinyl bean bag covers and memory foam chunks used as bean bag filling pose significant health risks to children and adults.
The research shows a strong relationship between those who spend time around bean bags with vinyl covers and bean bag filling that have memory foam blocks and increased rates of cancer and birth defects.
According to the National Cancer Institute in this research, exposure to vinyl chloride, which is a component in the manufacture of vinyl fabrics, "is associated with increased risk of a rare form of liver cancer (Hepatic Angiosarcoma) as well as brain and long cancers, lymphoma and leukemia."
Bean bag Fillings
Adults are not the only ones at rush from sleeping on bean bags manufactured from vinyl material, even babies too. A bean bag that has no child resistant slide fastener is a no-no for babies. Children can suffocate from inhaling or swallowing the filling inside of the bean bag.
Adult and children alike can get cancer from inhaling the off-gas from vinyl. According to the research by BeanbagsRUs cited above, even long after vinyl leaves the factory, it continues to emit substance that are harmful to the health. Sleeping on it exposes you to the harmful vinyl chloride.
The research also shows that some materials used for bean bag filings may also be hazardous because of off-gassing.
Dangerous chemicals in memory foams which are used in some bean bag fillings contain the following toxic chemicals: Acetone, Dimethylformamide (which may cause organ damage), Methyl Benzene, Vinylidene chloride.
---
Points to consider when searching for suitable bean bags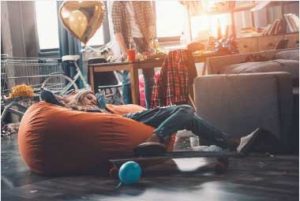 Is the bag smooth?
If it is not smooth, it will not be comfortable. There are no two ways about this when choosing a bean bag. It is a non-negotiable factor that must be considered. After all, what use is a fabric if it doesn't agree with your skin, if you can't wrap it around your body and just fall asleep?
So, make this point your priority. Touch the bean bags fabric, ask questions. Is it velvet, lush, smooth and beautiful? That's probably what you should buy.
Does the fabric breath?
Here we are again, and this factor is especially important for those who live in hot regions, Africa, some parts of Asia. Guys, if it doesn't breath, then it gives off heat. If it gives off heat, your body takes it. You definitely can't fall asleep on that. Cotton fabric is one of the best fabric on this category.
Is the bean bag durable?
The bean bag fabric must be a strong one. When making my last purchase I asked the attendant if I could, you know, pounce on the bean bag before I buy and take it away from the store. Aghast, she said no. I told her, well I couldn't buy if then.
You get the point. Tensile strength is important. You will roll in it, bounce on it, pounce on it, pull it and all sorts of torture that your bean bag would go through in the course of it's lifetime staying with you.
And if you have kids, then expect that your bean bag is in for a rough ride. If it's not strong, the bean bag will not last long before you are foraging for new one.
Is the bean bag waterproof
Oi, watch out for that spill! But that's a normal occurrence to expect. Spillages of food, juice and even those from your pets.
Some bean bags fabrics are coated with water resistant materials, others have it woven in, while still others have it under the fabric to prevent water from getting inside the fillings.
One of the benefits of water resistant fabric is that it is easier or maintain. All you need to do in cases of spillages is wipe the stains off with dry towel.
Besides if you happen to leave your bean bag out doors and it gets wet from moisture you can easily wipe it down or leave it out to dry.
You can sleep on bean bags alright. Keep safe when using vinyl bean bags and follow the tips I provided in making great choices of bean bags.

Final words
Yes, sleeping on bean bags is okay. But you need to be wary of the material that your bean bag is made of and also, the fillings in your bean bag.
So, just before you jump on your bean bag because it is cozy and relaxing, be sure that you are not putting yourself in danger of using a bean bag that may be hazardous to your health.
Got any questions?