Practicing or performing while sitting on a guitar stool is quite a different feel from when sitting on a guitar chair.
Most Guitarists prefer using Guitar stools to guitar chairs because the guitar chair allows the weight of the guitar to make their right leg go numb after a while. In contrast, it is easier to tap one's foot when sitting on a guitar stool. The self-realizing difference is influenced by comfort, posture, and stability. Overall,

A well-built guitar chair may be designed with extra features to aid extra comforts such as backrest and ergonomically designed footrest (which are actually very good) but they do not offer as much flexibility and easier posture as a guitar stool.
So the standing opinion is that guitar stools might be a better option over guitar chairs. But to what extent could this be true? And which one should you invest in and go for as a guitarist? Or as a beginner? Read on to find out which is better between guitar chairs and guitar stools.
Why it is better to sit on a guitar stool than a guitar chair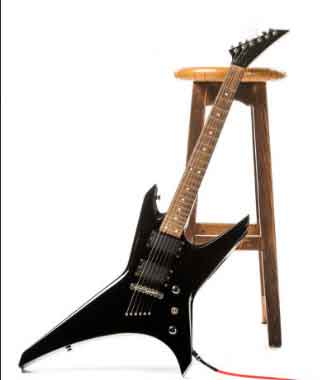 It is better to sit on a stool than a guitar chair. So many people argue that it is better to sit on a stool than to sit on a guitar chair when playing, performing, or practicing guitar, and here are the reasons why it can be true.
Just as with other instruments that require sitting down at one point or the other, your practice sessions can be influenced by the type of seat you choose to sit on.
By now, with all the education and exposure, you should already know better than to use seats like dining room chairs or any other regular chairs that you think will work. This is because they will surely make your body unhappy.
The major discomfort entertained by guitarists includes pains on their fingers, wrists, neck back, and shoulder regions, and all these are obviously due to a poor sitting posture.
One of the best steps to take as a guitarist to avoid such discomfort is to decide on the kind of seat you want to use.
You can choose to either use a recommended guitar chair or a recommended guitar stool.
There are many options in the market and it looks like both types of seats have the same primary purpose- to sit on for playing guitar.
But there are some peculiar differences between the two depending on the design, features, and usage.
To this end, most guitarist wants to know which between a guitar chair and guitar stool is best.
For us to establish the right answer, let's go through the advantages and disadvantages of using each of them and compare. We can then finalize on which overweighs which.
A guitar stool enhances your vocals
Just so you know, the improvements in your vocal cords might appear inconsequential when you sit on a guitar stool because the structure of the stool ensures that your neck is appropriately adjusted. The design also ensures your wrist and forearm are correctly adjusted.
This over time, can actually improve your playing skills as we have seen on most American guitarists.
There are some guitar chairs, especially some with fixed backrest and armrest that allows you to be seated poorly. You will agree with me that when the wrist angle changes the clarity of your notes can be affected when the fingers strike the strings.
Guitar stool improve your overall sitting posture
Some guitar players have concluded that it is inevitable to experience pain when playing the guitar. Well, this is not entirely true because it most times happens to beginners. When the fingers get used to the strings, of course with time, it will no longer be considered as pain.
But the point of focus here is your posture while you get better. There are some beginners that place the guitar on their laps and quickly lose focus when playing the guitar.
This is the ultimate reason why a guitar stool is a better option because you are provided with the right sitting posture.
Guitar stools offer portable options
Even if you really like to use a guitar chair, have you considered portability and storage?
Away from the guitar context, which do you think will be easier to move around: a stool or a chair?
Unlike some guitar chair that is hardly carried about, you can easily fold some guitar stool and take them back to the storage space once you are done performing.
Since guitar stools are portable, they are travel-friendly compared to guitar chairs.
Take for instance this Performance Tool W85011 Adjustable Height guitar Stool. Truth be told, it is better than most guitar chairs.
I am not speaking for the fact that I have recommended it in most of my review articles but because I have people who have told me how it is better prefered than using regular chairs or guitar chairs.
The 360-degree swivel seat with a square footrest that this stool is equipped with gives one no reason to choose a guitar chair.
Most guitar chairs will not offer the 330lb weight capacity (150kg) of this stool and will not be designed with the pu leather cushion.
To burst your bubbles, the backrest feature that always wants to make you pick a guitar chair is featured in this  Performance tool guitar stool. There are also many stools of this kind too.
Why it is better to sit on a guitar chair than a guitar stool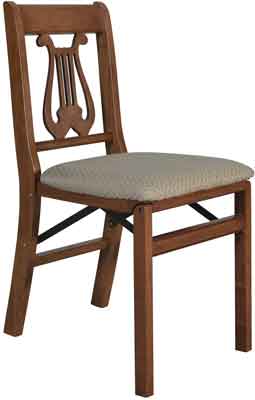 On the other hand, most people would like to choose sitting on a guitar chair instead of sitting on  a guitar stool for these considerable reasons:
You get to hold the guitar more correctly
For efficient performance, the hand should be focused on playing and striking the strings, and not trying to balance the guitar.
Sitting on a guitar chair allows you to focus your attention on playing the guitar and not adjusting it.
A well-built guitar chair is designed to offer versatility, maneuverability ( as with some), and a certain stylistic integrity. It surely gives you a way of holding and maneuvering the guitar better.
The backrest allows for more flexibility
If you like your guitar seat to have a short backrest where you can rest your spin a little bit after long hours of playing or practicing, then a guitar chair is the best option.
Most guitar stools do not have a backrest. Since the backrest in guitar chairs offers back support, it is a more comfortable option in this sense.
No Armrest
Unlike other regular chairs, guitar chairs are not designed with armrests. This is not a flow because it facilitates your playing. It is different from a computer chair or dining room chair.
The absence of an armrest allows you to be able to reach, bend, flex, and exchange instruments.
In addition, most guitar chairs are really adjustable on several fronts: up, down, lumbar, etc.
Superior structure – affects the cost
You can not compare the structure of a stool to that of a chair. The construction of a well-built guitar chair can be said to be superior. That is why the weight capacity limit is usually higher than that of stools.
However, this influences the cost.
Guitar stools are pretty much affordable compared to heavy-duty guitar chairs.
While a durable guitar stool may cost anywhere between $50 and $150, a guitar chair may cost $200 or more.
But you know some people believe that when something costs more, it is superior. That's the philosophy. Because guitar chairs are costly than guitar stools, most buyers believe that the chairs are better options.
It all boils down to the feature you really want, anyway.
A very perfect example I can use as an illustration to back up my point of view is this unique guitar chair I once bought for my sister's son who is in a guitar class.
It is called Gator Frameworks Guitar Seat. There was a lot of option but this one stood out according to my taste.
Even though it cost about $64 then,  I consider it better than some guitar stools because only because it has an ergonomic backrest but also because of the fold-out guitar stand that comes with it.
The fold-out guitar stand is what you will never see in any guitar stool – none that I know of.
My sister's son, even till now, feels happy with the chair and would likely prefer using more of that kind to using stools. He uses the fold-out guitar stand to hold his Acoustic and electric guitars
The 300lb weight capacity, as you will see with most guitar chairs, is also considered when comparing to guitar stools.
The only reason why I frown at it, and particularly most guitar chairs is that assembly is most times required, unlike stools.
When it comes to reasons why it is better to use guitar chairs, I would have loved to compare the  Gator Frameworks Guitar chair I then bought for my sister's son with this On-Stage DT8500 Guitar chair I personally use when I play guitar in church.
But it is quite pricey (about $79), just as with most guitar chairs out there. It was bought by the church anyway.
When I sit on it, I realize that I prefer it to some guitar stools I have used. Not just because it is height adjustable but also because of the 12″ Vinyl padded seat, backrest, and Footrest.
Most affordable, and portable stools for guitar will likely not feature these.
Guitar stool or chair – which is best for beginners?
To beginners, let me first spell out that there is nothing meaningful to be done with an aching body. Not to mention playing guitar. In other words, much priority should be placed on the type of guitar seat you choose for practice.
Even your favorite popular guitarists appreciate the importance of protecting their bodies during practice.
Helping you choose between a guitar chair and guitar stool can be a little challenging because, at the end of the day, it can depend on your height, size, and preference.
But as beginners, it is certain that you will be spending more time practicing. To this end, you will surely need the kind of guitar seat that has enough seat padding.
This will offer you the comfortable seating you need to get more out of your practice sessions.
Hence, I advise you get a body-friendly guitar practice stool as a beginner. Ultimately, it is best to choose the stool that has a removable backrest.
There are many available options on the market and some of them are affordable because they are stools. In this connection, I would like to recommend this Performance Tool W85011 Adjustable Height guitar Stool as mentioned earlier as a very good guitar stool for beginners.
As you practice and get accustomed to sitting with the right posture, you can now change to using a chair.
All in all, whatever your decision will be, you want to make sure you are using a strap.
It is all for maintaining balance, stability, and comfort.
Consider buying a guitar stool now as a small investment that will ensure you practice your guitar for as long as you want.
Reasons why Guitar stools are considered best over guitar chairs
Portability is also key for guitarists and the kind of accessories they use. A guitar stool is a perfect choice for this. And if you are concerned with looks, guitar stools have more color options and designed than guitar chairs.
Like I mentioned above, it really all boils down to your preferred position when practicing the guitar. But the reason why a guitar stool is considered to be the best over a guitar chair is because of a number of factors that I have bantered on.
Yes, you want to choose the type of guitar seat that will make you feel more comfortable, but do you want a stool or a regular-sized chair?
Also, the issue of a backrest, how much of a backrest Is needed? What if the stool has a removable backrest? Any need for considering a chair?
In addition, since a stool does not have an armrest, so also does a guitar chair, do we then need to spend much on buying guitar chairs? I mean, both do not have an armrest that gets in the way of the guitar, yeah? So why go for the costly option?
Wrapping up on guitar stool vs guitar chair
The best resolution will be to choose what you feel most comfortable in.
Above all, the seating solution for guitarists, especially enthusiastic guitarists, should not be underrated.
Get a recommended guitar seat, and watch how your performance enhances over time!