Leaning back office chairs? This used to be one of the mind–boggling questions that go through our heads in our workplace.
Some find it even more overlooked than usual. Why does my best office chair lean back with time? There are so many reasons why your chair begins to morph into something of discomfort as time goes on.
Before we dive into the details, see quick hacks to fix your office chair that leans back too far. Take a peek as it may help.
Unscrew all bolts to open up your chair to view the carcass
Create checks to identify the problem
Analyze the black plates with a screwdriver or wrench for damage

Fasten any loose screws
Replace black plates if damaged
Assess the chair knob for balance

Check out the Casters and Sockets for rusts

Oil and grease any greasy parts of the casters and sockets
Check the chair wheels for realignment
Aside from the fact that we spend most of our time in the office on our chairs, causing immense pressure on the disks, the casters and knob can also be found in damaged conditions overtime.
Then there is the issue of uneven distribution of weight or constant jerking of the base to cause this pressure.
Many important parts of your office chair that are supposed to take care of comfort, are dented or damaged.
From the seat, knob, wheels, screws, and bolts in the black plate, and sometimes the arm fittings, can change the whole sitting position that your body isn't used to.
Calm your nerves now will you, there is always a way. In most cases, people will see that there is no point of return and will have to purchase e new one and the cycle continues.  This becomes very dreary and unreasonable as you begin to count the costs.
On average, an office worker is on the seat from 5 to 8 hours daily and this is just one of the few reasons why the chair begins to lean back with time.
This issue doesn't only destroy your comfort, but also the physical posture of your body because there comes a time you will be too busy to notice you're not sitting properly. In some cases, a badly structured chair can cause severe physical injuries.
There are so many types of office chairs with different modifications which make it difficult to cover up all the steps.
Simply put, this guide won't work for all types of chairs but will give you the basic information and ideas necessary to fix any office chair.
Tools you need to fix an office chair that leans back too far
Here are the basic tools you'll need;
A Phillips screwdriver
A wrench
WD-40 lubricants
A rubber mallet
Steps to fix an office chair that leans back too far
Are you ready? Let's begin…
Create checks to identify the problem

The first step in approaching any problem is to first identify the problem. When this is done, you are already halfway is to sit on your chair and understand where the problem is coming from.
This makes the approach a lot easier. Is it tilting? To which side? How bad is it?
Another thing to look out for is the wheels of the chair. Just one of these wheels can cause the whole chair to lose some needed balance which makes your sitting position a bit awkward.
Sometimes, the wheels are broken or lose. Use your screwdriver to tighten up the loose wheel or replace the broken one from your favorite hardware store.
Analyze the black plates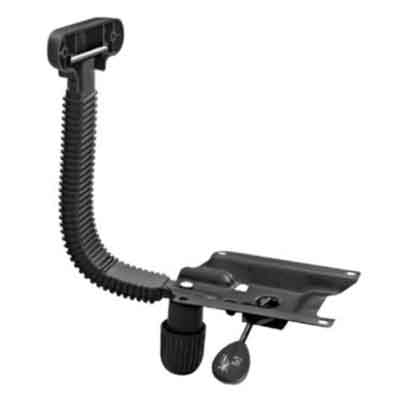 Grab your wrench and analyze the black plate. This is the 'engine room' of your chair because it contains the levers, screws, and bolts.
It is a steel frame that can be found in all hydraulic chairs. In this case, you may find out that your Black plate has the hydraulic lever bolts, screws, or adjustments lose or broken.
Turn your chair upside down and inspect this plate. You will need your screwdriver to tighten up every single loose fastener.
Replace any missing screw from your distribution dealer too. If you find out that the chair still leans too backward, you will have to replace the plate.
Assess the chair knob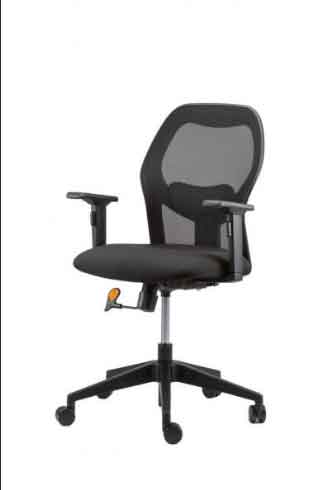 Another issue is the tension knob which can be found underneath the chair. This process does not involve any tools but your hand. The knob keeps the chair in balance modification in terms of height and inclination.
The height, tilt, and lock adjustment can all be accessed from the knob. There is a cylinder underneath the seat that takes care of your seat height.
There is the tilt mechanism that generated the force in which your chair will direct for reclining. You can then lock down the settings of your chair to your preferred inclination with the tilt lock.
All these modifications in the knob can keep your chair balanced and safe from tilting a little backward when the right tight-tension is applied.
Check out the Casters and Sockets
When the casters of your chair have been damaged over time, your chair automatically begins to lose balance, thereby causing an uneven leveling.  After this, remove the screws and bolts from the caster with your screwdriver.
Your caster can also face the dilemma of picking up debris and dirt as it continues to roll. Clean it thoroughly if you detect dirt. Your suction hose can come in handy for adept cleaning.
Use your rubber mallet to tap gently when you drive the casters back into their designated sockets. Do not hit hard so as not to damage the whole thing.
Grease rusty areas

Add some WD-40 degreaser to your casters and reduce the friction experiences underneath. A caster can be damaged for so long and becomes nearly undetectable.
This is mostly caused by constant friction between these casters and the sockets, or between screws and bolts. It is enough to make your chair lean a little backward.
This is not usually the fault of excess friction, but it is due to age and constant use. Sometimes though, a case of uneven weight distribution can apply tension to one side and something gets broken.
Also, your suede or leather in which the chair is made of can be prevented from drying. Keep it clean and humid for durability.
Also, try to keep away from direct sunlight by making sure to use the window shades.
 What if the problem still persists?
Do you recall any time you've tried everything possible to fix something and the problem still persists? Well, the thing is that you haven't tried everything possible. The problem might not be that deep and it has been staring at you the whole time.
There are cases where you will need to realign the arms of the chair and the back. You could loosen and reinstall all the wheels too, maybe one isn't aligned properly.
Open and check every single part of your chair for disproportions with the use of your tools.
Check out for any missing screws during the survey and also after you have coupled everything back again, there might be something left lying on the floor.
How to fix an office chair that leans too forward
The cause of the faulty chair leaning forward might not be that different from why it leans a little far back. The best hydraulic chairs definitely improve our all-round physical postures.
There are so many things that come to mind when you discover that our office throne isn't giving you the desired comfort anymore.
Check out the tilt mechanism

Yes, the forward tilt mechanism is simply the knob mentioned earlier. The knob sometimes can be found stuck. This is been caused by friction, dislodge, or complete damage.
Setting the chair configurations to your taste is essential for the repair. Through the knob, you can use the lock lever to assert the position of the chair which will last until you choose to make changes again.
Clean all dirty parts

Now is some other cases, your knob or tilt mechanism might be completely stuck. Here, no matter how much effort you put to turn or adjust, your chair doesn't move, it only leans too forward.
Due to age or lack of maintenance, most knobs that get stuck is been caused by dust particles or a rusted one.
Grab a piece of damp cloth and get cleaning. Sometimes all you need is a little cleaning for your knob to free again.
Also, this is another reason why our home/office appliances would be kept spick and span at times to avoid dust and rusts.
In order to access some office chair knob, the seat itself has to be removed completely for thorough cleaning to occur.
Use your screwdriver to open up any covering you may find, and do so in a gentle manner to avoid further damages.
Find the lever connections that are linked to the forward tilt knob and apply some lubricants like the WD-40 and spray. There are also grease oil products that can remove rust completely.
Recliners need replacements of repair
The recliners can be your springs or levers. They are the mechanism in charge of the balance of your office chair. They can be found under the seat.
Pull the recline lever to detect the response of the recliner spring. When you did not detect any action, the spring will need to be replaced.
Your lever also can lose its function to rust, dent, or total damage that will need replacement.
Things to check in your new office chair
When we venture into any product store looking for an office chair, our mind yearns for something that can serve for over a long period of time.
There are so many chair products in the market with the different sad unique build.
Some of these chairs might never do it for most people but is perfect for the rest. This is also due to their body shape and size too.
Here, we are going to be looking at the things to look out for when you get a new chair for your office space.
Is the height adjustable
It is extremely important to know which height is preferable for you in your chair. This is in context with your table and computer screen. Also, is your feet okay with the floor? They should be horizontal to the floor for maximum comfort.
What about lumbar support
When it comes to Lumbar support, we are simply talking about the comfort of your back and spine. It is paramount that you lookout for a chair that keeps your lower back a little arched in a way that doesn't make you slump in overtime. Here is when you start to have some back pains.
Check the seat size too
Look out for a seat size that fits the nature of your buttocks in terms of depth and width. Tall people usually seek deeper seats to align with their build while shallower seats are perfect for the average height.
Check out for adjustable armrests
The work of the armrests on any good chair is to reduce the weight on your shoulders and neck. Make sure your armrests are adjustable too.
Check if the backrest is adjustable
Get yourself an office chair with the perfect backrest to make every day in the office a comfortable one (physically).
An adjustable backrest makes it easy for you to move the chair backward or forward. Then there is the tilt mechanism that holds the position on lock and you are good to go.
Check out the chair fabric
You will need a chair that allows you to blend well with your skin in terms of fabric and material. Look for padding that is directly in between soft and hard. Soft padding will keep you misbalanced and a hard one will bring pains.
Check the swivels and casters
The swivel gives your chair smooth movement across the floor in terms of mobility across your office space.
Do not overlook the making or texture of your office floor too. It must be able to go along with your office wheels so as not to cause damages or uneven contact.
Conclusion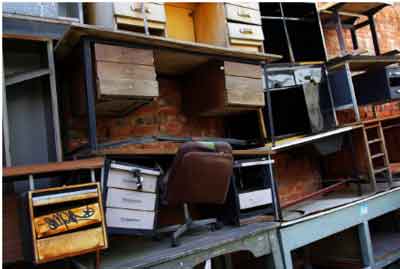 When working, you deserve to work in maximum comfort and this shows how important an office chair can be.
When your body is in the perfect shape to work, your mind becomes a progressive vessel. A bad chair can ruin your day and a good one can keep uplift your spirit.
Also, it is not all the time that we will need to call the attention of an expert when our chair begins to change its structure.
A screw, wheel, or lever might be misaligned. Something as small as a pin might be broken and simply needs replacement. Sometimes, there is no need to order a new chair. Just you and your manual can work wonders.